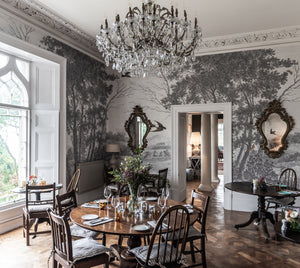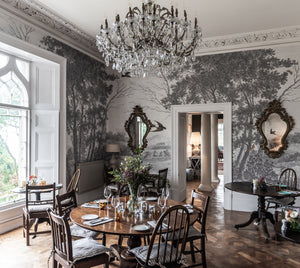 Woodchip & Magnolia TRADE vip
Woodchip & Magnolia Trade VIP
If you're looking to create bold & beautiful interiors for worldwide residential and commercial projects, you've come to the right place.
Our wallpaper, bespoke mural, paint and fabric collections are commercial grade and perfect for bringing those dream schemes to life. 
As an approved Trade VIP you'll gain exclusive access to our Trade VIP pricing, product exclusives, concierge service and other member benefits to make your work life as easy and hassle free as possible. 
Our Trade VIP program is open to interior designers, architects and interior stylists.
Trade VIP's In The Wild
A room designed by interior designer Anouska Lancaster using our Arcadia Sherbet wallpaper. Featured on Channel 4 series Renovation Nation as well as The Times and Times Property
Our Land of Milk & Honey Grey mural installed by Cross White Paper Hanging at the Oklahoma City Golf and Country Club
A London town house project designed by K a&nd H Design using our Oasis mural. Featured in Architectural Digest and You Magazine
Trade pricing - Competitive industry pricing on all of our products, no minimum order and free samples and customised sample packs
Concierge Service - Pattern and colour advice, artwork sourcing service, bespoke murals, custom design service and express delivery

Exclusives - Early access to new products and exclusive trade-only designs and colourways
Collaboration - Collaborate on projects from inspiration to installation and we will share the pattern and colour love on social media
At the moment our trade account is only open to interior designers, interior stylists and architects.
To log in to your Trade VIP account, please follow this link and enter your email to receive a 6 digit pin to login.
Only approved Trade VIP accounts will be able to view trade pricing and checkout.
If you're unable to log in, it means your Trade VIP application hasn't been approved, is waiting on approval or has been approved but not yet activated.
If you're having any issues, please contact us at trade.concierge@woodchipandmagnolia.co.uk
You'll have visibility of our trade pricing once logged into your account
Yes. We love bringing your dream schemes to life so if there's a custom colour you had in mind, just get in touch with us at trade.concierge@woodchipandmagnolia.co.uk to discuss
Testimonials
"We chose to work with Woodchip & Magnolia because of their Eco Manifesto. We love that they use FSC certified paper, low VOC inks and 100% renewable energy sources, so their values really aligned with our own"
- Pia Pelkonen, Interior Designer
"The quality is excellent and so is the customer service. There's such a wide selection and the colourways are pitched perfectly right"
- Barker Design, Interior Designers
"I recently did a shoot for Hypnos beds in an amazing manor house and wanted to use a combination of wallpaper and paint. The great thing about W&M are that the paint colours compliment the wallpaper colours."
Sarita Sharma, Interior Stylist
"The nature of the designs and the variety is fabulous."
- April Hamilton, Interior Designers
"Woodchip & Magnolia are brave and fearless with your approach to design and don't follow any rules – this is my mantra when it comes to design too. I love the fact that you work with us to create a design that is bespoke for the space being designed; tweaking dimensions and scales to work perfectly in the scheme."
- Anouska Lancaster, Interior Designer & Presenter